Supervisor Linda Parks
Second District
---
County Flu Clinics
Office Location:

625 West Hillcrest Drive

Thousand Oaks, CA 91360

Contact Information:

Phone: (805) 214-2510

Fax: (805) 480-0585

Toll Free Number:

(800) 660-5474

Email: Linda.Parks@ventura.org

The Oak Park Kanan Shuttle began service August 5th.

The free service is the first in the county that arrives

at 15-minute intervals designed to reduce school congestion,

plus stops for shopping, parks, and library.
Senior Summit 2013 with keynote speaker Sheila Cluff.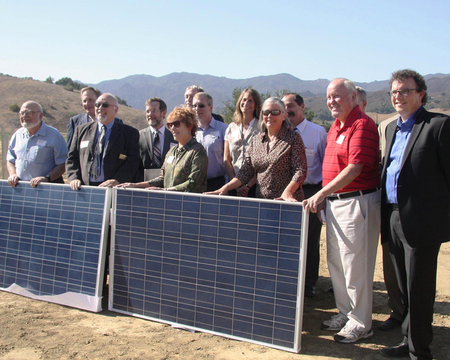 Congratulations to Las Virgenes Municipal Water District and Triunfo Sanitation District
for their joint project to use solar energy to pump recycled water for reuse in the
Ventura/Los Angeles County service area. It will reduce energy costs and the agency's carbon footprint.
---
Recent Articles by Supervisor Parks:
Hydraulic Fracturing: Is it safe?
Fighting Back Against Dishonest Campaigns
Healthy Outcomes or Tragic Consequences?
Taking The Edge Off A 'No' Vote: The Santa Monica Mountains Conservancy's Deal with U2 Guitarist David Evans
A New Business Model to Help Libraries
Helping Elderly Loved Ones Receive Residential Care
More Articles by Supervisor Parks
---
Administrative Assistants and Assignments:
Jennifer Ho
, Senior Executive Aide
Area Assignments:

Office Management, Supervisor's Calendar, Mental Health, Housing Services
e-mail

jennifer.ho@ventura.org
Jan Osterhaven
, Senior Administrative Aide
Area Assignments:

Newbury Park, Ventu Park, Thousand Oaks, Lynn Ranch, Oak Park, Somis
e-mail

jan.osterhaven@ventura.org
Damon Wing
, Senior Administrative Aide
Area Assignments:

Bell Canyon, Lake Sherwood-Hidden Valley, Malibu-Yerba Buena, Naval Base and Point Mugu, Environmental Issues
e-mail

damon.wing@ventura.org
Vanise Castillo-Saad
, Senior Executive Aide
Area Assignments:

Senior Issues, Social Services, Office Coordination
e- mail

vanise.castillo-saad@ventura.org